Bold City Brass in Concert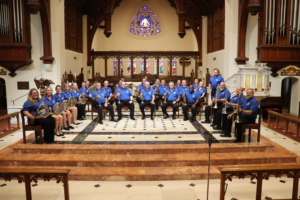 Bold City Brass, founded in 1980 in Jacksonville, Florida, is proud to bring quality music to the First Coast and beyond.  Membership in the ensemble draws upon musicians from across Northeast Florida and is comprised of professional musicians, retired music teachers and other fine players.  From its inception, the band has always been a volunteer group, performing in concert and often in support of other organizations at a variety of events and official functions.  The collective spirit of the band is based on the simple joy of making good music together.
Bold City Brass has modeled itself after a variety of brass bands, including British brass bands, historic brass ensembles and traditional brass quintets and quartets that use historic valved instruments from the Civil War era.  Currently, all musicians perform on contemporary brass instruments.
Under the direction of conductor, Dr. ErIc A. Becher, Bold City Brass has expanded its repertoire to include music from a variety of genres and periods.  Our mission to continue the tradition of quality brass band performance allows us to engage our community by providing inspiring concerts and music education programs.
Don't miss this incredible performing ensemble in their concert at Kirk Auditorium, Florida School of the Deaf and Blind, at 7:00 pm on Friday, May 5.  All attendees MUST enter through the Genoply Street entrance and check in at the guard gate.  Genoply Street is accessed from San Marco Street.