THE TRITIUM ENSEMBLE in Concert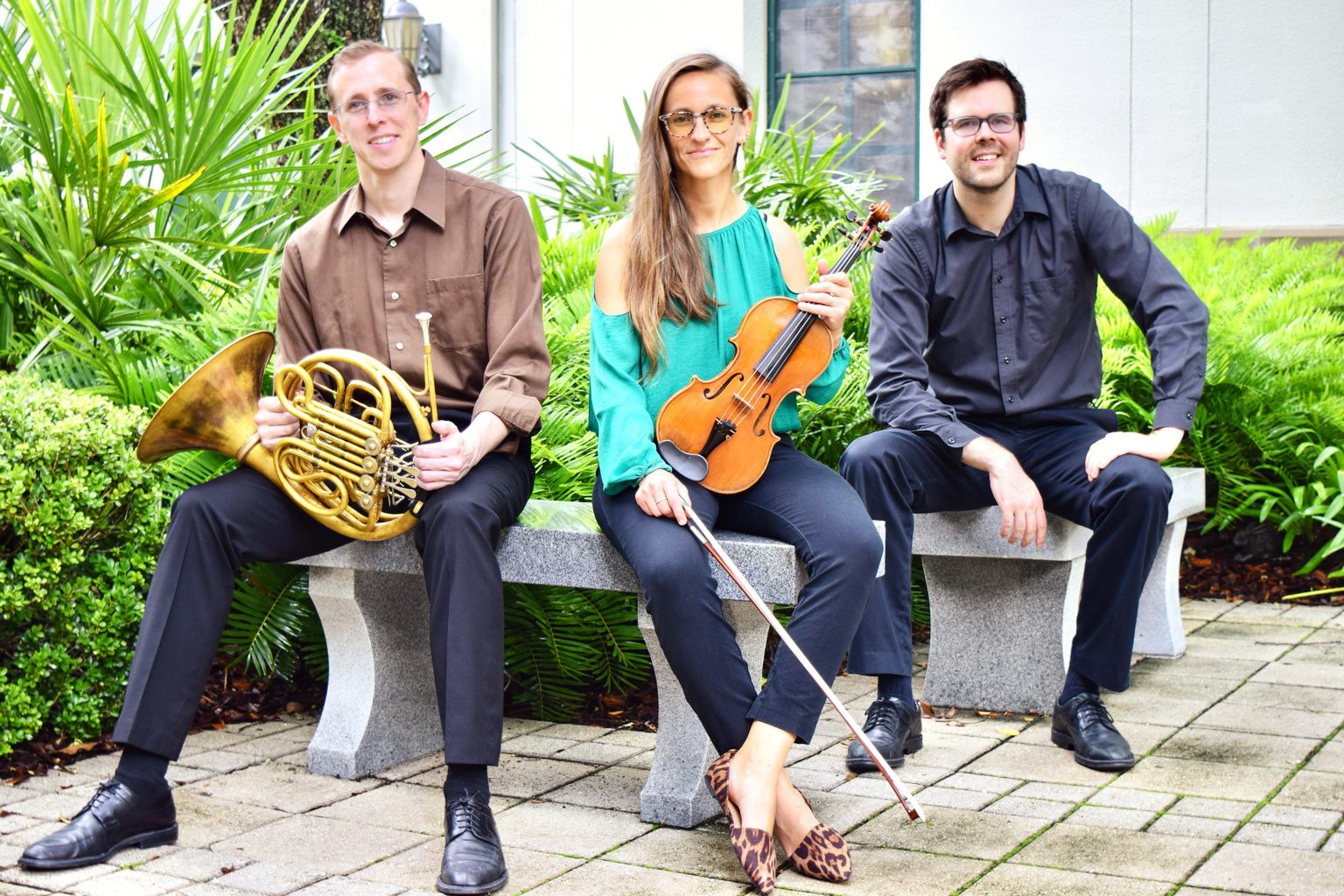 The Tritium Ensemble comprised of Will Winter, horn; Tania Moldovan, violin; and Chris Goddard, piano will present the Tuesday, May 9,  concert in the Chamber Music Series at 12 noon in the Memorial Presbyterian Chapel.  Their program will feature Nachtmusik II Symphony no. 7 by Mahler, a violin sonata by Debussy and the Horn Trio by Brahms.
Mr. Winter won a music scholarship to Davidson College where he studied horn with Frank Portone.  He has performed regionally and abroad with orchestras and chamber ensembles and as a featured soloist in the concerti of Mozart and Strauss as well as his own Divertimento.  He is a member of the Gainesville Orchestra, holds the horn position with the Gainesville Brass Quintet, and sings tenor and countertenor with the Holy Trinity Choir.  He has also been featured in the albums of Indie bands, Oh Fortuna and Morningbell.
A native of Romania, violinist Tania Moldovan started playing at age six.  She is an active orchestral and chamber musician performing extensively in the southeast – regularly with the Charleston Symphony, Pensacola Symphony, Venice Symphony and Orlando Philharmonic.  She is the co-founder of Chroma, a chamber music series based in Gainesville, which focuses on performing in unconventional spaces.  She has performed internationally in Germany, France, Greece, China and Japan and has a doctorate in music from Florida State University.
Chris Goddard is a Canadian pianist, organist and composer.  As a composer he has collaborated with NYO Canada, Esprit Orchestra, the Nouvel Ensemble Moderne, Continuum Ensemble and others and his works have been broadcast on CBC Radio 2 and BBC Radio 3.  He holds a Masters degree in contemporary piano performance from the Manhattan School of Music and a D.Mus. in composition from McGill University.  He currently serves as assisting organist at Holy Trinity Episcopal Church.