Chamber Music Series: Trio Rodin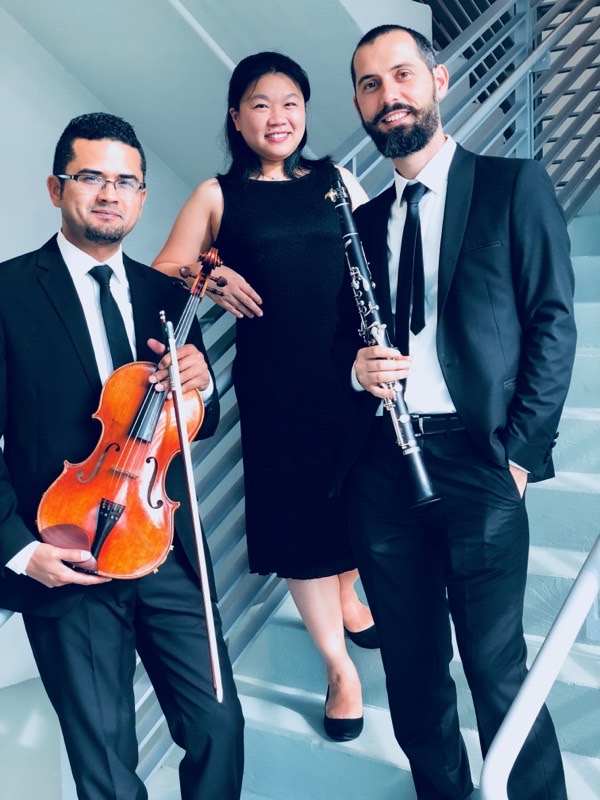 Formed by international award-winning musicians hailing from Mexico, Macedonia and Taiwan, Trio Rodin continues to delight audiences all through the United States and Abroad,  The trio members:  David Pedraza, viola; Stojo Miserlioski, clarinet; and Sheng- Yuan Kuan, piano have played concerts together and as soloists in Europe, America and Asia.  They are delighted to bring an outstanding program of music by Mozart, Schumann and Bruch to our Chamber Music Series.
David Pedraza, violist, began his musical studies in Reynosa, Mexico and after receiving a full scholarship to study at the Shenandoah Conservatory, was awarded a Bachelor of Music.  He holds a Professional Performance Certificate and earned a Master of Music degree from Lynn University Conservatory of Music.  Recently, Pedraza performed the Bartok "Viola Concerto" with the Orquesta Sinfonia de la UAT.  He also performs with the Con Brio Quartet and is Principal viola with the Symphony of the Americas.
Praised for her "admirable technical finesse and expressive flair" (Baltimore Sun), pianist Sheng-Yuan Kuan has garnered enthusiastic receptions for her solo and chamber music performances at the Kennedy Center, Weill Recital Hall, Taiwan National Concert Hall and Musikverein in Vienna.  She holds a D.M.A. degree from the Peabody Conservatory; M.M. degree from Yale School of Music and B.M. degree from the Manhattan School of Music.  A native of Taiwan, Sheng-Yuan is passionate about performing chamber music of eclectic styles.
A native Macedonian, Stojo Miserlioski started playing the clarinet at the age of eleven.  His performance engagements have taken him all over Europe and North America as soloist, recitalist, in the orchestra or in a chamber setting.  Currently he is working as a freelance musician and a clarinet teacher in South Florida.  He holds the clarinet position at the Florida Atlantic University in Boca Raton and is an Artist-Clinician for Buffet Crampon and Silverstein Works.