The Three Tellers: Margaret Kaler, Jane Sims, Wayne Sims in "Oldest City Tales: The Weaker Sex?"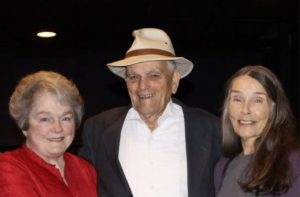 The Three Tellers are Wayne & Jane Sims (The Storytelling Sims), humorists, historians, and tandem tellers, and Margaret Kaler, popular storyteller, actor and director.  For this performance, their 6th for Romanza Festivale, the trio brings a new installment to their Oldest City Tales series.
"Oldest City Tales: The Weaker Sex?" is another captivating chapter in the Oldest City Tales series developed by The Three Tellers. The vignettes deal with episodes of success to travail of women who have had an impact on life in the Oldest City through the centuries.
The Three Tellers will appear Vilano Beach Pier Pavilion and are sponsored by Romanza and Vilano Beach Main Street.
Admission price is $10/person or $15/for two tickets.  Tickets are available at:
https://www.eventbrite.com/e/romanza-festivale-oldest-city-tales-the-three-tellers-tickets-148519047469
JANE SIMS, Publicist
Cell: 904-823-7969
StoryBuff@aol.com