The Tale Tellers present "Story and Song from Florida's Past"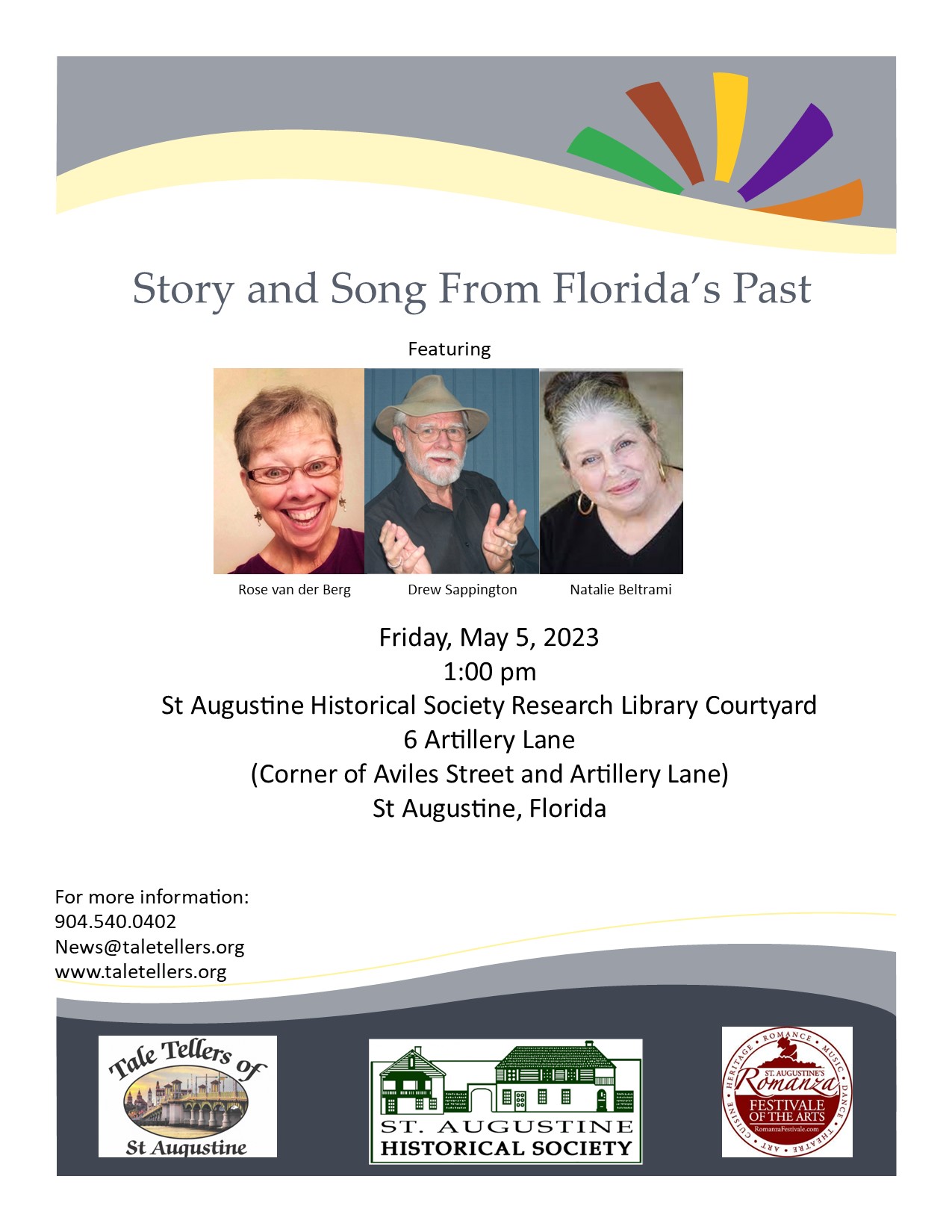 The Tale Tellers of St Augustine will be telling historical stories at the St. Augustine Historical Society Research Courtyard on May 5, 2023 at 1 pm.  Storytelling is alive and well in St. Augustine and you won't want to miss these gifted communicators of Florida history.  The Tale Tellers in this program are Rose van Der Berg, Drew Sappington and Natalie Beltrami.
Ms. van der Berg is a dynamic storyteller and teaching artist who uplifts, amuses and inspires all ages.  Her stories explore the heart and humor of the human condition.  She has been a MainStage featured teller and workshop presenter at the Florida Storytelling Festival, is an Orlando Story Club Grand Champion and a Featured Finalist in the national "Great American Story Competition.  Her story is entitled "She Walked Her Talk:  Peace Pilgrim's Adventures in Florida" and tells the story of Mildred Lisette Norman who gave up her identity, her possessions and any use of money to hike alone for 28 years to promote peace.
Drew Sappington's story is entitled "Poker, Not Chess" and tells the story of how a bluff with an incomplete fort saved St. Augustine from pirates in 1683 and the role played by a potty-mouthed governor!  Drew has had a storied career as a college professor, pest control guy, ward administrator in a mental hospital, researcher, bouncer and clinical psychologist.  He is the author of Hidden History of St. Augustine.
Natalie Beltrami will tell the story of Miss Mary Pittie, a little girl who supposedly haunts the lighthouse.  Ms. Beltrami is an artist, actor and storyteller.  She believes our stories are the threads that create the fabric of our lives.  When we reflect on them, we see the rich pattern of who we are.  The patterns reveal that we are all pieces of the same garment.