Chamber Music Series: The North Florida Women's Chorale in Concert: "I Dream a World"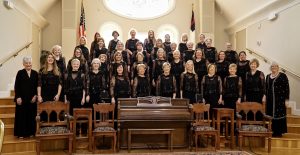 The North Florida Women's Chorale, a favorite of Festivale followers, will be opening the Chamber Music Series with a noontime concert on Saturday, May 8, at Ancient City Baptist Church.  The concert, entitled "I Dream a World"  will feature music of hope for our world, and takes its theme from Rollo Dilworth's setting of the above-named Langston Hughes poem.  The Chorale will also sing "What a Wonderful World", "Music Down in My Soul", "Set Me as a Seal" and other favorites.  Kerry Fradley is the director of the Chorale and Kathleen Vande Berg is the accompanist.
Members of the Chorale have been rehearsing wearing masks and sitting socially distanced from each other.  This is their first concert in over a year and they are thrilled to be singing together again.
An offering to benefit the Chorale will be received at concert's end.