An Afternoon Visit with Rosamond Parrish, Artist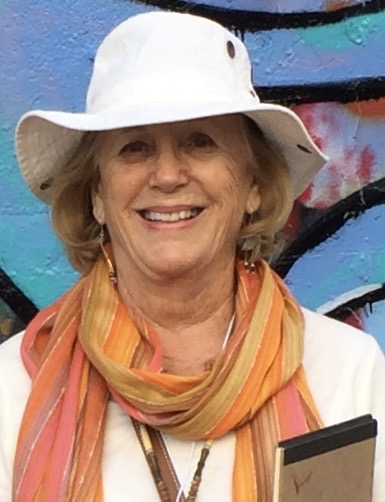 Rosamond Parrish's art can be described in many ways:  colorful, evocative, bold or quiet.  In a life that has taken many turns, she keeps returning to her love of travel and places.  She paints and draws both in plein air and in her small studio in St. Augustine.
An English major at Auburn, Rosamond soon moved to Florida, taught briefly in the public schools and began studying watercolor.  In 1982, she founded the Jacksonville Watercolor Society and served on the Board of the Saint Augustine Art Association and the Florida Watercolor Society.  Ms. Parrish has taught workshops and classes for over 30 years.  Local scenes of Lincolnville homes or Saint Augustine historic places, as well as travel far and near can be seen in her watercolors, drawing and collages.
She has illustrated and written two books:  "Lincolnville, a Sketchbook Journal of St. Augustine's Historic Neighborhood" (available at Blue Hen Cafe) and "St. Augustine, a Sketchbook". (Pineapple Press, available at Barnes and Noble, Amazon, the Lightner Museum and the Pena Peck Gift Shop)
Enjoy a glass of wine and cheese and crackers as you listen to Ms. Parrish!
Voorhees Mission House at St. Cyprians Episcopal Church, M.L.King St., Lincolnville