Lincolnville Live! COMMUNITY DRUMMING on the Commons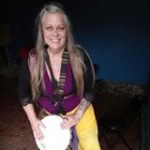 The Commons of St. Cyprian's Episcopal Church will be the venue for special Romanza "Little Night Music" events on Wednesday, May 12 and Friday, May 14.  On May 12, the serene courtyard and labyrinth will provide the setting for community drumming led by Amber Hall.   Ms. Hall  works leading drumming at nursing homes, daycare centers, schools,  civic groups and teaching team building for companies and other gatherings.  Don't miss seeing this amazing program in action!
Amber has special drums which can be sanitized.  If you wish, bring your own drum, beans in a can – any kind of percussion instrument to join in the drumming.  After this year – don't you want to bang on something?
www.intotherhythm.com