First Coast Opera & A Classic Theatre present Cox And Box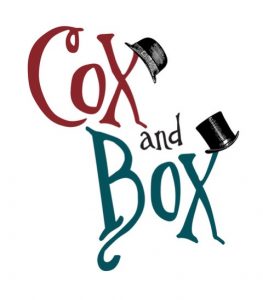 A Classic Theatre and First Coast Opera are joining forces to present a delightful double bill of two short operas.  First is "Cox and Box", a classic musical farce with music by Arthur Sullivan of Gilbert & Sullivan fame and book by F.C. Burnand.  The plot concerns two men — James John Cox who works all day and John James Box who works all night.  Taking advantage of their schedules, their landlord rents the same room to each of them, thereby doubling his rental income!  This arrangement works perfectly until Box is given the day off, leading to several surprises.
A World Premiere follows with "Penelope Ann's Revenge", music by First Coast Opera Artistic Director, Curtis Tucker, and book by Nelson Sheeley.  This sequel picks up where "Cox and Box" left off, furthering the adventures of the two gentlemen renters and throwing into the mix the Landlord's wife and a wealthy widow.  
There will be seven performances:  May 4, 5, 6, 7, 8 at 7:30 pm and two matinee productions on Saturday, May 8 and Sunday, May 9 at 2 pm.  The venue is the Lincolnville Museum and Cultural Center.  There is limited seating.  Tickets are $30.00 for adults and $10.00 for students and may be purchased online at:  
                             www.firstcoastopera.org or www.aclassictheatre.org