Chamber Music Series: From Bach to Bernstein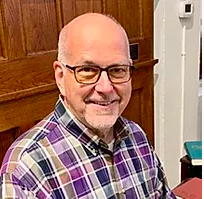 Cliff Parrish is planning an eclectic program as the final  Chamber Music Noontime Concert.  "From Bach to Bernstein" will feature Baroque music and French art songs as well music from Hollywood productions.  Cliff began his work as a church musician at age 13 and worked steadily in various denominations until November, when he retired from Trinity Parish, St. Augustine.  Active in high school, college and community theater, he received the NJ Association of Community Theater awards for direction and for music direction.  Mr. Parrish holds a degree in Music Education from Jacksonville University and a Master of Music degree in conducting from Westminster Choir College.
Mr. Parrish will be joined in this program by Tyler Channey, oboe; Tamara Seymour, violin; and Haley Longino Kirk, soprano.  Ms. Kirk is originally from Jacksonville, attended Douglas Anderson School of the Arts and graduated from Samford University with a Vocal Performance degree.  Her most memorable roles are Susan in "Company" (Sondheim), Lauretta in "Gianni Schicchi" (Puccini) and Lady Valerie in "The Cabildo" (Beach).  Haley has been a frequent soloist at Trinity Parish for the last three years.
FREE