Chamber Music Series: Clarinet/Piano Reflections by Steve and Anna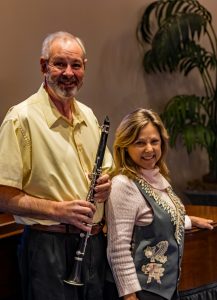 The second half of the noontime concert on Wednesday, May 12, will be presented by Anna DeProspero, pianist and Steve Marr, clarinetist.  Their program entitled "Clarinet/Piano Reflections"  will feature Suite from the Victorian Kitchen Garden for clarinet and piano by Reade; Jamaican Rumba for Clarinet and Piano by Benjamin; and Downton Abbey Suite for Piano.
Ms. DeProspero is a classically trained pianist whose versatility, experience and ability provide her audience a wide range of musical enjoyment from classical to classic rock, jazz and contemporary Christian.  Anna's unique style and compositions provide hours of listening pleasure, while provoking the listener to introspection of soul, heart and mind.  In addition to performance, Anna has also led St. Augustine's Festival of Music.  Commitment to education and community have continued to be consistent themes throughout her life's musical journey.
Steve began his musical career as as clarinetist in the U. S. Army Band in 1971.  After earning a bachelor's degree in Education at Michigan State University, he served in the U.S. Air Force for 21 years.  He returned to college to earn a Master of Music degree from Southern Illinois University.  Steve has served as an Adjunct Professor of Music in two colleges in Illinois and since relocating to Florida, has conducted the St. Augustine Youth Orchestra and been the principal clarinetist for the St. Augustine Orchestra.  He also performs with the St Augustine Community Band and the Old City Clarinets.